PRODUCTION TECHNOLOGY.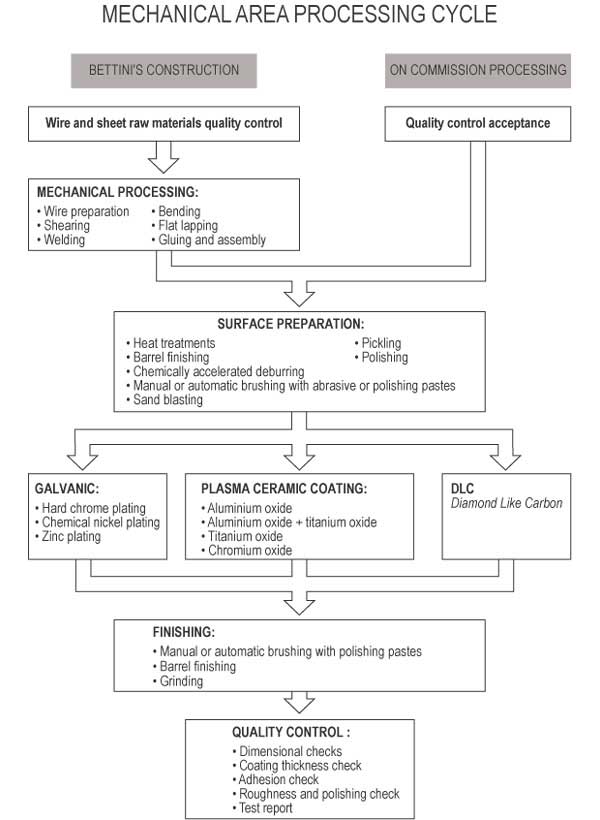 The diagram above illustrates the production process of parts subject to galvanic or ceramic coating applications.
The main processing phases involve:
1) Mechanical processing:
• Construction of part from wire (diameters from 1 to 6 mm) previously ground in special machines, or from sheet, selected precisely at source to prevent presence of marks.
• Lapping of flat surfaces when required.
• Gluing of metal/ceramic or metal/plastic with dual compound resin, assembly.
2) Surface preparation: In this phase the parts undergo mechanical working (barrel finishing, brushing, sanding etc.) to prepare the surface for subsequent galvanic or ceramic coating application.
Bettini has recently introduced chemically accelerated barrel finishing processes to guarantee optimal and constant finish quality of parts.
3) Galvanic, plasma ceramic, D.L.C.: coatings are applied with the latest coating technology using automatic or semiautomatic systems that guarantee constant quality of coating characteristics.
4) Finish: after the ceramic or galvanic coating, most of the articles require further mechanical processing to obtain the dimensional tolerances and surface finishes required. This phase is crucial to obtain the required results and to ensure perfect operation of the thread guide element.