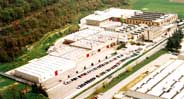 Click on the pics to enlarge.

A partner for textile machine manufacturers since 1875.
Bettini S.r.l. was established in 1875. For over a century Bettini S.r.l. it has been at the cutting edge in the field of textile machinery accessories. Bettini is located in Monte Marenzo, in the province of Lecco, and placed on an industrial area of about 32.000 square meters, with a staff of about 80 people.
Since its foundation, Bettini has been a solid reference point for the most prestigious international brands of textile machinery manufacturers, thanks to the complete range of process technologies used. These range from ceramic and metal products to wear resistant surface treatments.
In the last 30 years the company has also diversified. Successfully results has been obtained into electrical end electronic, agricultural, mechanical and biomedical fields, aerospace, as well as automobile, chemical and telecommunications industries.
Besides the catalogue list of threadguides for textile machinery, our production is highly focused on tailor made articles, both for machinery manufacturers and, in many cases, end-users who wants to make adjustments according to their own needs.


Competence in production processes.
Bettini S.r.l. is strongly oriented towards production, and thanks to an especially strong knowledge of production processes and constant investment in updating of its own plants, specialises in problem-solving, i.e. the planning and realisation of custom made solutions and products on the basis of the differing requirements of its clients.


Beside ceramic product manufacture, Bettini S.r.l. is well organised for production of metallic components and accessories: the latest generation automated machines for metal thread bending, high power shearing machines for metal sheet cutting, and grinding and polishing machines, allow Bettini S.r.l. to offer the market both specific processes and complete management of the entire production cycle, including multi-component assembly.