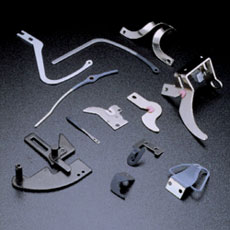 SHEET THREADGUIDES

With shearing machines up to 120 tons of power, we produce thread guides and sheet thread guides of a thickness up to 3 mm, also in stainless steel. Thanks to the skill of the technical department, design problems can be solved in cooperation with the customer, as well as the design of matrixes for more complex forms.
The sheet thread guides undergo surface threatment at the Bettini site, according to the specific application, including protecting and wear resistant coatings.
The sheet thread guides can then be completed with the assembly of our ceramic thread guides, with welding of the various partsin sheet steel or wire, with the assembly of various components, threading of holes etc.
For samples or limited series, laser cutting prototipes can be produced, complete with bends, treatments and coatings.
These articles are not available in the catalogue, but can be ordered on request or specifications of the client. For further information, send an e-mail or contact us directly.