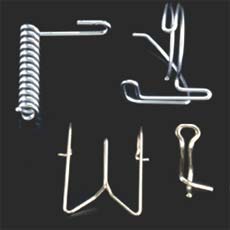 WIRE THREADGUIDES

For over 100 years, Bettini has produced metal thread guides. The most complex forms, for a vast range of applications, are produced with the utmost of care: any sign of bends, in particular on the yarn route, or cutting burrs or weldings which may impair the yarn, are eliminated completely. The thread guides are then coated in hard chrome plating, chemical nickel plating, DLC (Diamond Like Carbon), or ceramic plasma according to the requirements of the application and/or conditions of use, or can be completed with the assembly of our ceramic thread guides in the zones subject to wear.
We normally handle wire diameters from 1 to 6 mm of any metal (steel, stainless steel, copper, etc.); if greater diameters are required, contact us for further information.

These articles are not available in the catalogue, but can be ordered on request or specifications of the client. For further information, send an e-mail or contact us directly.