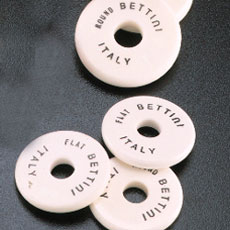 TEXTURIZING GUIDE DISCS

Another of our products is the ceramic guide disc for texturizing, with highly polished surfaces (Ra  0,3 µm), used in the yarn guide position on infeed to and outfeed from the texturizing spindles.

These articles are not available in the catalogue, but can be ordered on request or specifications of the client. For further information, send an e-mail or contact us directly.