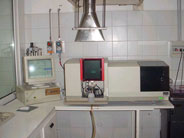 Both the product and the plant engineering side of the production process is constantly monitored. A detailed programme of periodic controls and preventive maintenance is applied to all machinery and installations in order to guarantee constant maximum efficiency.
The chemical compositions and operating parameters of galvanizing baths and correlated preliminary treatments are constantly controlled, as are the compositions and gradings of the ceramic blends that Bettini itself manufactures.
During all production phases, controls are carried out with regard to dimensions, dimensional tolerances, ceramic material shrinkage, integrity of pieces using penetrating liquid, thickness of applied coatings and surface roughness.
The single phases are self-control managed by operators and are always under the supervision of quality department staff.